This wiki is dedicated everything related about the Madan no Ou to Vanadis (also known as Lord Marksman and Vanadis) light novel series, including adaptations of the ongoing Manga and one Anime series, that anyone can edit. Please help by editing or adding articles and lessening the stubs.
We are currently editing over 644 articles since 2013.
Warning: This wiki contains spoilers and light nudity, read them with caution!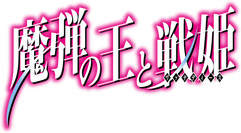 Madan no Ō to Vanadis (魔弾の王と戦姫, King of the Magic Arrow and the Vanadis) is a Japanese light novel series written by Tsukasa Kawaguchi and illustrated by Yoshi☆wo (Volume 1 to 8) and Hinata Katagiri (since Volume 9). It is published by Media Factory under their MF Bunko J label and has 12 volumes released since April 2011. A manga adaptation by Nobuhiko Yanai began serialization in Media Factory's seinen manga magazine Comic Flapper on October 5, 2011. An anime by Satelight will begin airing by October 4th, 2014.


Set during the warring periods of Western Europe, Eleonora Viltaria, one of the seven Vanadis of Zhcted, leads the fight against Brune. Along with the six others possessing the same Vanadis rank, they each possess a powerful weapon passed down from the ancient black dragon and together they reign over the 7 territories of Zchted, each possessing their own. The power of the Vanadis causes dread and fear towards their enemies. An Earl in the service of the neighboring country of Brune, a young archer called Tigre, got a taste of this power after he was defeated on the battlefield by Elen (Eleonora). However, Elen decided to spare his life after seeing his skills. In exchange, he is asked to serve her...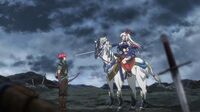 Archer and Vanadis Arc is the first story arc of the Madan no Ou to Vanadis series. This story arc tells about a fateful meeting between Tigrevurmud Vorn (or Tigre) and Eleonora Viltaria (or Elen) after the Battle of Dinant and how the relation of Tigre with Elen changes from being a prisoner to becoming allies.

According to an interview from Tsukasa Kawaguchi, the five kingdoms in this story are based on real life historical European countries: France for Brune, Russia for Zhcted, Persia for Muozinel, Germany for Sachstein and the United Kingdom for Asvarre.
This light novel series is based on Slavic and other Medieval European Folklore.
Sasha was the previous Vanadis mediator before she suffered from an unknown disease. Her illness forced her to retire and her fellow Vanadis Sofya Obertas succeeded her.


Episode 13 will air on AT-X in...
December 27 2014 20:00:00 +0900!
Episode 13 will air on December 27th at 8:00pm JST!

For Previous Poll Results Visit - Wikia Polls